Ghibli (RWD)
In the Ghibli, this excitement is powered by a choice of two 3.0-liter, twin-turbocharged V6 engines, designed by Maserati Powertrain and built exclusively by Ferrari at their factory in Maranello, Italy.

Performance
Top speed: 166 mph
0-60 mph acceleration: 5.5 s
MSRP from $74,980*
Ghibli S (RWD)
A sports saloon with alluring curves and effortless power, crafted and engineered for the ultimate in exhilarating performance. The rear-wheel-drive, 404 hp Ghibli S features the dramatic and distinctive Maserati exhaust note, and speaks with a voice destined to be heard.

Performance
Top speed: 178 mph
0-60 mph acceleration: 4.9 s
MSRP from $79,980*
Ghibli S Q4 (AWD)
With Maserati's renowned Q4 all-wheel drive system, the Ghibli S Q4 delivers stupendous grip and traction in adverse conditions, along with the highest levels of performance. Ghibli S Q4 delivers 404 hp and the handling agility of Maserati Q4 intelligent all-wheel drive, gripping the road for maximum performance.

Performance
Top speed: 178 mph
0-60 mph acceleration: 4.7 s
MSRP from $82,480*
---
Classic appeal. Contemporary design.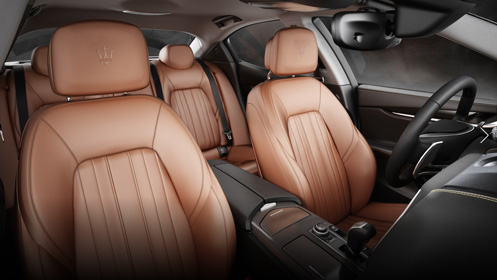 To ensure that its looks match its performance, Ghibli features numerous distinctive design elements, like the Sleek, coupe-like profile with frameless door windows, Muscular rear haunches and quad tailpipes, and a Front grille inspired by the legendary Maserati A6 GCS Berlinetta of the 1950s.


Choice materials with modern design and ergonomic controls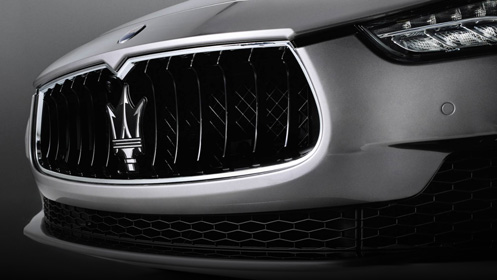 A study in dynamically sculpted curves and gracefully flowing lines, each Ghibli features the signature grille bearing the Maserati Trident, signaling dynamic intent and poised composure.